---
---
Portable Electric Patient Lift Transfer Chair for Home Wheelchair Lift Transfer Chair, Bathroom Wheelchair, Patient Transfer Chair, Bedside Commode, Shower Chair, Portable Car Lift
【Multipurpose 4 in 1】This machine can solve the problem of mutual displacement between the wheelchairs, sofa, bed, toilet, seat, etc. for elderly and handicapped people with limited mobility. This is a product that combines 4 types of machines, and can be used as a patient lift, commode chair, wheelchair, and shower chair at the same time.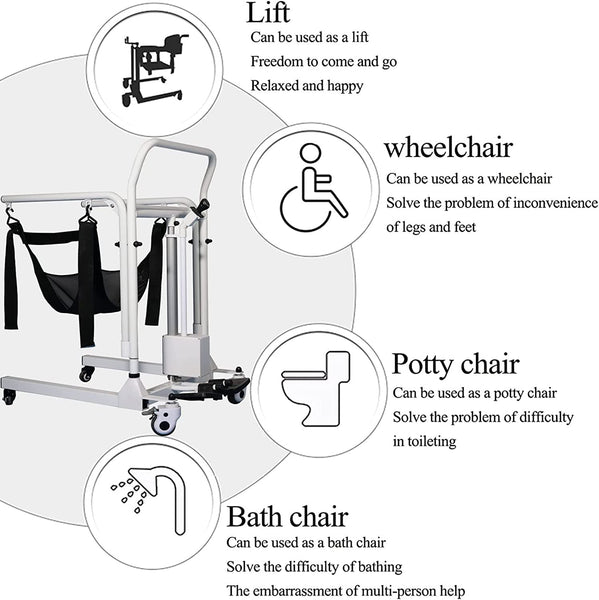 【Motor Driving Lifting】Adjustable lift motor allows you to adjust the seat height effortlessly, Seat height can be adjusted between 15.7" - 25.5". Compared with hydraulic patient lifts and manual patient lifts, the electric patient lifts are more convenient to operate, less effort to use and quicker to lift. And after charging for 3 hours, the motor can be used for more than 15 days.
【Product Features】The main frame is made of high-quality aluminum alloy, which is durable, does not rust, and does not deform. Load-carrying capacity up to 330 lbs, equipped with 360-degree universal wheel with brake, flexible and easy to control steering. The 180° easy opening and closing movement is flexible, electric system which can easily realize the transfer of patients in various scenes.
【Humanization Details】One-touch Lift (easier to operate); Two Detachable Washable Cushion (breathable comfortable cleaning); Safety Backrest (safety buckle design, simple operation); Foot Pedal (provide comfortable sitting, even if the patient is sitting for a long time); Simple Installation (easy to complete assembly).
Specifications:
| | |
| --- | --- |
|     Item |     Specifications |
| Material | Alloy Steel, Plastic, Nylon |
| Maximum Loading Weight | 330 lbs |
| Power Supply | Battery, Rechargeable |
| Rated Power | 96 W |
| Voltage | DC 24 V |
| Lifting Range | 9.84 in , from 15.75 in up to 25.59 in |
| Dimensions | 48.43 X 28.54 X 21.46 in |
| Waterproof Level | IP44 |
| Application | Home, Hospital, Nursing Home |
| Feature | Electric, Portable |
| Functions | Patient Lift / Transfer / Toilet / Bath Chair / Wheelchair / Car |
| Patent | Yes |
| Wheel | Two Front Wheels With Brake |
| It Suites For Bed | Height Of Bed From 4.33 in To 24.80 in |
| Door width, chair can be passed | > 21.65 in |
What's Included:

1 Electric lift transfer chair Set
2 Sling (Hole and No Hole)
1 Charger
1 Users manual

Guarantee Policy:

frame - 3 years
electrical - 2 years 
batteries - 1 year
handles - 2 years 
charger - 2 years 
wheels - none / on arrival 30 days
screws / bolts / nuts - none / on arrival 30 days
cushions / seats / sling - none / on arrival 30 days

How Do I Assemble the Patient Lift Transfer Chair?
▶ Please read the following carefully before making a purchase:

The Transfer patient lift cannot be used on a bed or couch that is smaller than 15.7" height.

User's upper body must be able to maintain an upright sitting position; or else the user will incline to one side!

If the under-bed gaps are less than 3.14", the lift will not be able to reach the bed.

Because the tiny wheels are unable to travel past obstacles, it is only appropriate for flat terrain.

The transfer chair is not designed for very weak or completely bedridden people. The user should be able to sit upright and move the left and right hips to facilitate the rear opening and closing seat plate to slide under the hips.
---